Kasabian - Live At The O2 (2012) BDRip 1080p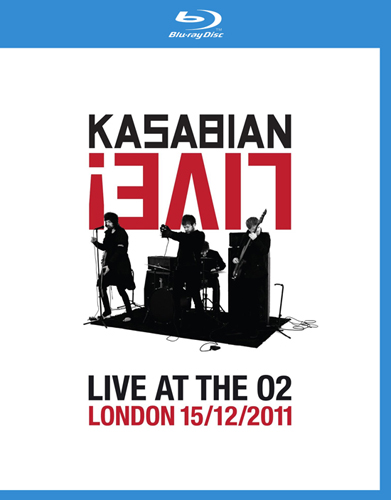 Screenshots: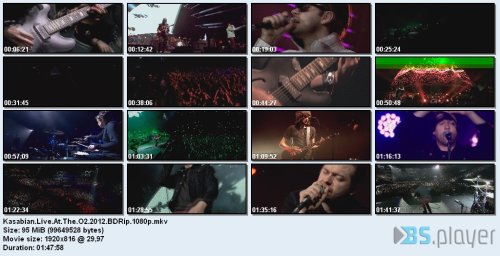 Setlist:
01. Days Are Forgotten
02. Shoot The Runner
03. Velociraptor!
04. Underdog
05. Where Did All The Love Go?
06. I.D.
07. I Hear Voices
08. Thick As Thieves
09. Take Aim
10. Clubfoot
11. Re-Wired
12. Empire
13. La FÃce Verte
14. Fast Fuse / Pulp Fiction
15. Goodbye Kiss
16. L.S.F.
17. Switchblade Smiles
18. Vlad The Impaler
19. Fire
Description:
Filmed in high definition at London's renowned O2 Arena on December 15th 2011, this is Kasabian's first stand alone Blu-Ray release. The show came on the back of the band's No.1 album Velociraptor! and the setlist combines tracks from that album with hits and classic album tracks from across their career so far. The concert was part of a sold out arena tour that covered the UK and Ireland at the end of last year. Kasabian are the recipients of numerous awards for Best Live Band and Best British Band in recent years and this new show with its spectacular and innovative staging will be a must have for their huge and dedicated fanbase
Info:
Source:

Genre:
Indie Rock | Alternative Rock
Quality:
BDRip | 1080p
Format:
MKV | 13.8Mbps
Length:
01:47:00 | 12.1Gb
Video:
H.264 | 1920x816 | 21:9 | 29.970fps
Audio 1:
DTS | 755kbps | 48kHz | 6 channels: Front: L C R, Surround: L R
Audio 2:
PCM | 1536kbps | 48kHz | 2 channels: L R
Language:
English

Treść widoczna tylko dla użytkowników forum Prezone.pl.
Zaloguj się lub załóż darmowe konto aby otrzymać dostęp do niewidocznej treści.
pass: galexandersHD
Attention:
Files are subject to expiration and can be automatically deleted if their not downloaded 30 days after the last download.